Becky

Add Becky as a friend

Becky will be notified and will have to accept this friendship request, to view updates from Becky and their ratings you must follow them.

Remove Becky as a friend



About me
I love learning through watching great movies and reading great books.
I HIGHLY RECOMMEND WATCHING THE AFI's 100 MOVIES AND UTILIZING YOUR LOCAL LIBRARY TO DO SO :)
About my collections
afi.com/100Years/movies10.aspx
goodreads.com/user/show/1544652-becky
Lists
Recent reviews

Posted : 10 years, 11 months ago on 27 July 2011 11:25 (A review of
The Last of the Mohicans (Enhanced Widescreen) (1992)
)
I loved this movie, but I'm sure the timing of my watching it had a lot to do with my being able to appreciate it as much as I did. I'm just nearing the end of reading a history book titled American Colonies by Alan Taylor which includes great information regarding French, Indian, settler, and British relations during colonial times. This movie was therefore a big treat for me with its beautiful scenery, characters, and sniplets of historical facts that I was able to recognize from my reading. Everything in the movie seemed as authenic as one could at least imagine it to be. Lots of action too!

0 comments,
Reply to this entry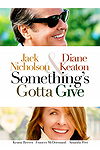 Posted : 11 years, 3 months ago on 17 March 2011 01:13 (A review of
Something's Gotta Give
)
Though Jack Nicholson is great as usual, Diane Keaton steals the show in this one. She had me laughing to the point of tears! Her character holds nothing back for the sake of pride, yet comes off too funny to be pathetic. Admittedly my enthusiasm probably has a lot to do with me being female and this being a fabulous chick flick, but I think men will enjoy this one too due to the nice balancing dose of Nicholson's presence.

0 comments,
Reply to this entry
Movies
TV
Books
DVDs
Comments